SOLAR PANEL VAN FIXED ROOF DUCATO E-VAN 120W C SHAPED - C120
Regular price

Sale price

€431,00
Moscatelli , a company specializing in the design, manufacture and supply of solar panels , televisions and other products for campers, vans and mini vans, offers a C-shaped photovoltaic panel for fixed roof Vans - Ducato of 120W with an aluminum base which gives lightness, resistance to sudden changes in temperature and duration over time.
Our semi-flexible photovoltaic panels in aluminum owe their quality to an accurate division into 7 layers of innovative elements :
- the ETFE positioned in the upper part guarantees high thermal and atmospheric agents resistance.
- the EVA , copolymer plastic material, seals everything perfectly.
- monocrystalline cells are synonymous with high performance and reliability over time.
- the 0.8 mm aluminum layer allows for flexibility and helps to disperse heat.
- the TPT rear protection resists over time and corrosion and is waterproof.
A family of solar panels which, thanks to carefully studied sizes and shapes, adapts perfectly to the roof of the Van Ducato to make the best use of the spaces usually left empty around the portholes and allows for multiple positioning and combinations on the roof.
The complete kit for Van Ducato is easy to assemble and consists of a 5 m cable directly connected to the panel which allows you to reach the battery and a junction box positioned on the side which allows the cable to pass on the side of the roof.
ASSOCIATED PRODUCTS:
Within our product range you will also find charge regulators useful for making the panel work in the best possible way.
You can combine this type of solar panel with the 10A PWM charge controller and the 12A MPPT controller.
TECHNICAL DATA:

Weight
3.70kg
Dimensions
138 x 82cm
Peak power
120W
max voltage power
18th
max current power
6.67A
Open circuit voltage
21.6V
Open circuit current
7.27A
max voltage system
600V
MOSCATELLI WARRANTY AND ASSISTANCE

All our products are guaranteed for 2 years .

Once the purchase has been made, you can contact our assistance .

A person dedicated to the service will provide you with all the necessary explanations for the operation and use of the product and on how to install it.
SHIPPING INFORMATION

The price includes transport costs.

This means that you will not be charged for shipping .
MOSCATELLI RETURNS POLICY

If you need to return , don't worry.

Contact our customer service: we will personally take care of all the necessary steps .
Share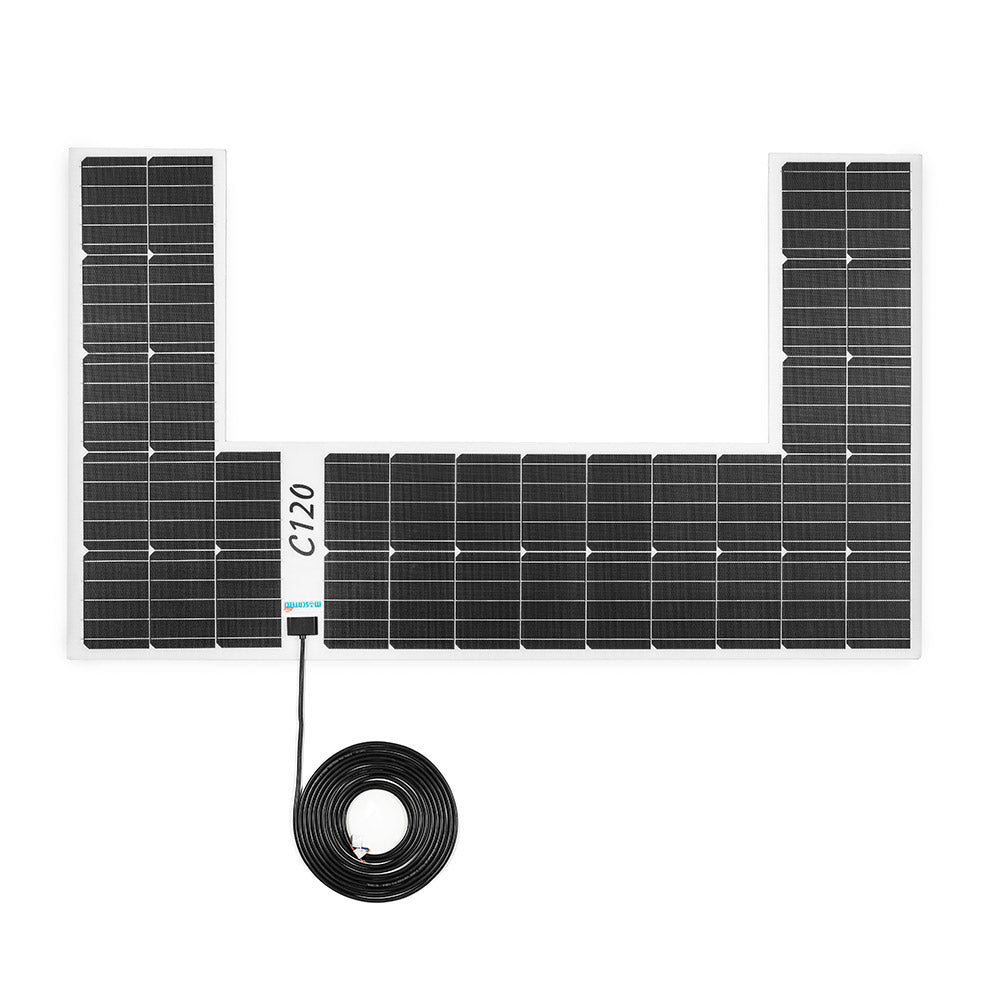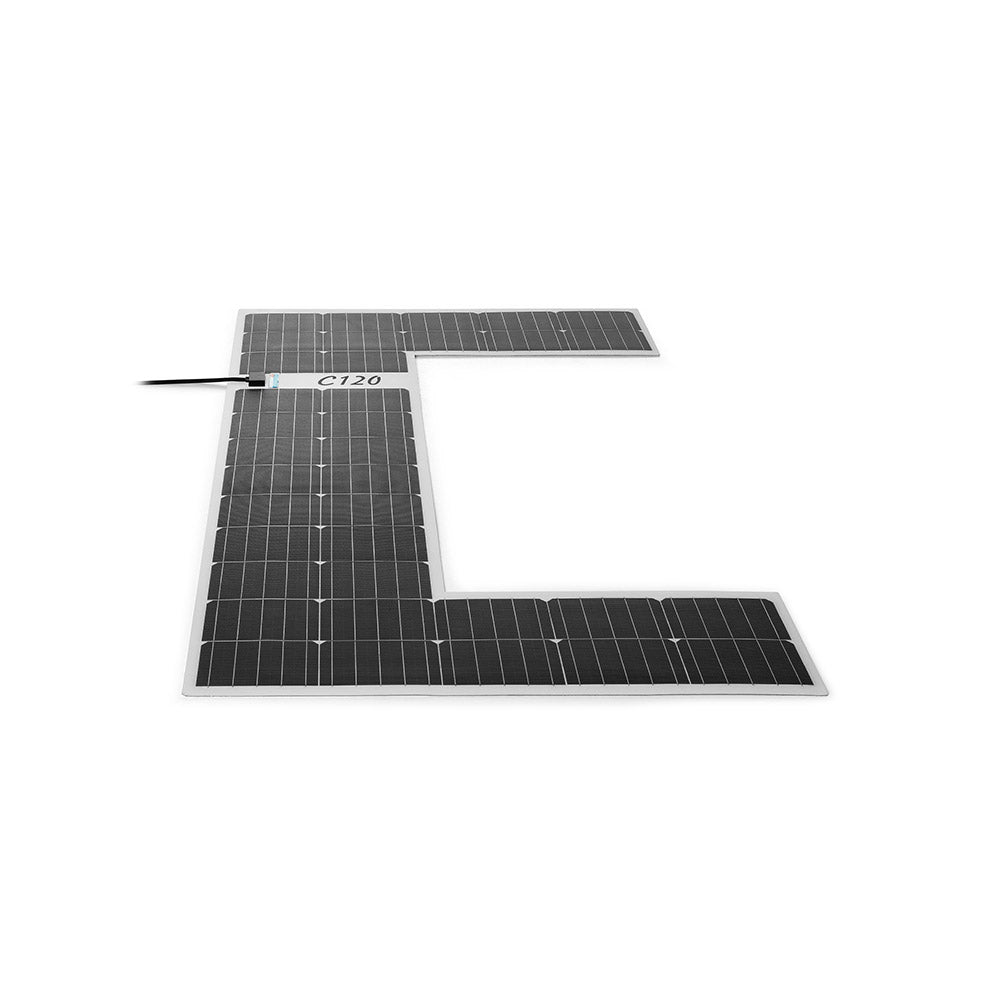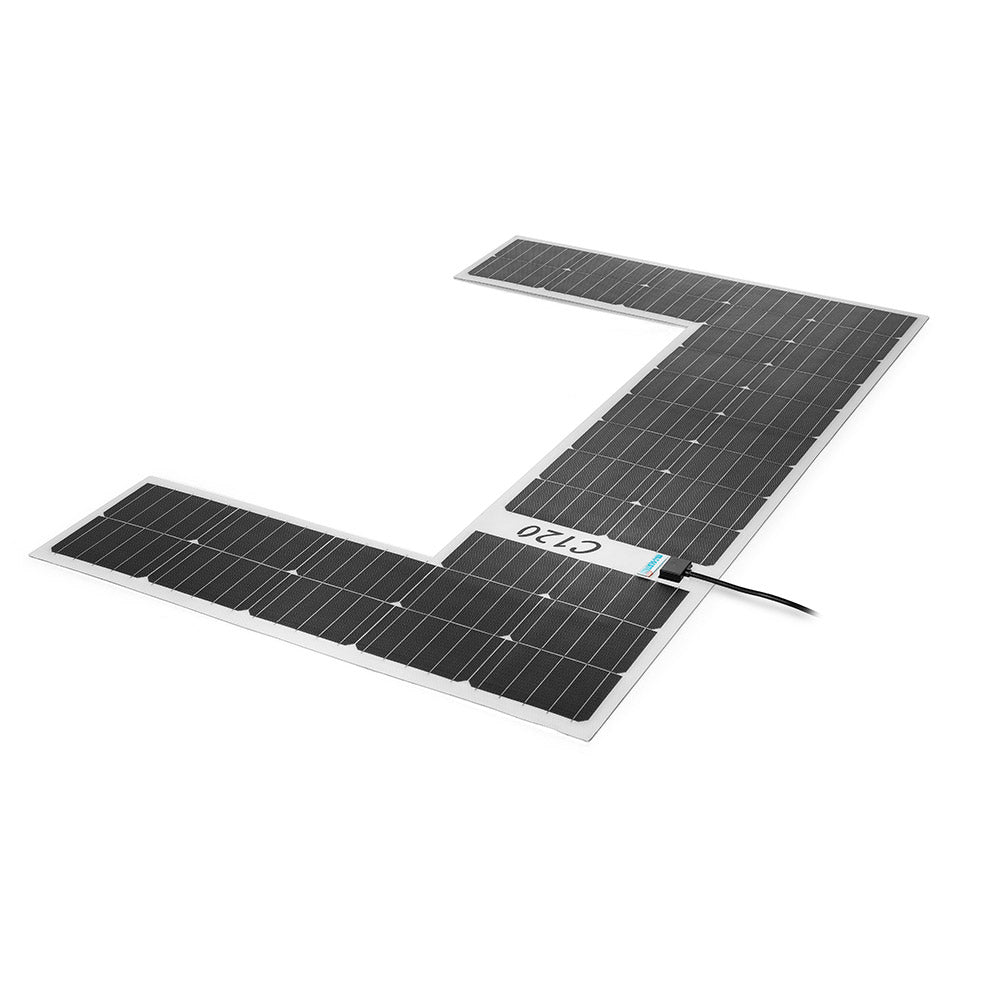 FREQUENTLY ASKED QUESTIONS
1. How does a solar panel for campers and vans work?

Fitting one or more photovoltaic panels on your camper, van or mini van allows you to produce electricity thanks to an irreplaceable natural element: the sun. However, the sun's rays do not directly power the vehicle's utilities but only the battery to which the electrical system is connected. To store the current in the battery, regulate the voltage and manage the charge and discharge cycles, a charge controller is required, usually equipped with a remote control display.

All products that you find with us , to experience your journey in safety and autonomy.
2. How many things can be recharged with a solar panel?

We have the sun, a solar panel, a charge controller that feeds the battery and the utilities connected to it. The combination of all these elements determines the quantity of utilities that can be fed.

For example, a 100W panel is sufficient to support the basic consumption of a camper or
a van , such as led lights, TV, water pump and refrigerator.

With a more powerful panel , for example from 130W , it is possible to recharge as well
two batteries .

While, to produce an amount of current capable of recharging a large battery park in addition to the basic services, it is recommended to purchase a more powerful 190W or 195W panel. This is the optimal choice to meet the needs of intensive users or travelers who want to experience a free stop even for several days.

Our products are designed to meet your needs for independence and autonomy , depending on your needs.
3. How do you install a solar panel on the Van?

Installing a solar panel on the roof of your camper or van is simple . First you need to buy a suitable glue or silicone that will be applied to the roof of your vehicle, in correspondence with the full part of the corrugation. Then you have to drill the roof , in order to get the cables to the batteries connected to the charge regulator , taking care to use the cable gland . In this way, in fact, water infiltrations and possible unpleasant inconveniences are avoided.

Now that you have everything you need, all you have to do is leave .
what do you find in the box?
1. Instruction manual

2. Your shaped solar panel

3. 5m cable
We are by your side and not
we take nothing for granted.
Just what you wanted, ready to give you the autonomy you need.
5 m cable already connected to the panel and junction box for cable passage. Now that you have everything, the journey begins.